HL Pharma is a trusted name in Australia, registered with the Victorian Department of Health, supplying pharmaceuticals under Good Distribution Practice (GDP).

Holding the exclusive distribution rights for numerous products, HL Pharma provides the expertise and experience necessary to manage the complex requirements of pharmaceutical product distribution in Australia.

Refer the menu below for our range of TGA Licensed products.
For more information on any of these products, please contact us.
SODIUM THIOSULFATE - Sodium Thiosulfate Injection - 12.5g/50ml Vial
HL Pharma is the Australian distributor of the Sodium Thiosulfate injection (Hope Pharmaceuticals) 12.5g/50ml Vial 1 x 50ml.
Sodium Thiosulfate is a TGA-licensed product.
Stock is available from HL Pharma directly or from CH2.
Contact us for more information.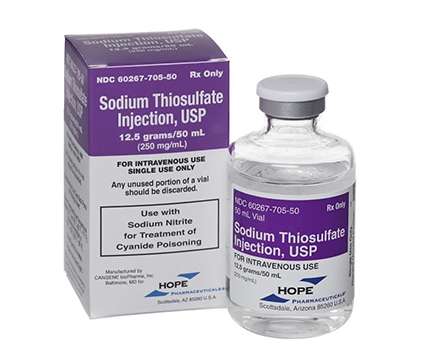 What is Sodium Thiosulfate?
Sodium Thiosulfate is a TGA-licensed medical product authorised for use in Australia and available to New Zealand. It is used with Sodium Nitrite for the treatment of Cyanide Poisoning.
Product & Consumer Information
Each vial contains 12.5 grams of Sodium Thiosulfate pentahydrate in 50 mL solution (250 mg/mL).
HL Pharma can help with the distribution of this licensed product in Australia and New Zealand.
Contact us by using our online contact form today for more information. Alternatively call us on: Phone: Ph:+61 3 7036 0141.