Carnation® Corn Caps & Footcare - TGA Licensed Products
HL Pharma is a trusted name in Australia, registered with the Victorian Department of Health, supplying pharmaceuticals under Good Distribution Practice (GDP).
Holding the exclusive distribution rights for Carnation® Corn Caps and Carnation® Footcare products, in Australia. HL Pharma provides the expertise and experience necessary to manage the complex requirements of pharmaceutical product wholesale and distribution in Australia.
For more information on Carnation® Footcare products, please contact us today.
Available at wholesale exclusively through HL Pharma
Enquire now
---
Contact HL Pharma today to order Carnation® Corn products in Australia or to discuss any specific requirements. Alternatively call us on Ph:+61 3 7036 0141.
Carnation® Footcare Products
Carnation® Footcare is an established UK brand with a range of medicated podiatry products designed specifically to help with common foot issues, such as corns, bunions and calluses.
The Carnation® range of footcare solutions includes bandages, plasters, corn shields and pads for the treatment of corns, blisters, verrucas and general podiatry health and management. The range is now distributed in Australia exclusively by HL Pharma and available to buy in Australian pharmacies.
The following footcare products are available to purchase wholesale from HL Pharma in Australia.
Carnation® Corn Caps
Carnation Footcare Corn Caps are a clinically proven, all-in-one method to remove painful corns.
The product contains salicylic acid and keratolytic that penetrates the skin and helps to remove corns and provide relief.
For the treatment of corns, bunions & calluses
Clinically proven corn removal felt with a felt pad that relieves pressure
Active medicated centre & self adhesive plaster
Easy to apply & adheres firmly to promote healing.
Available in packs of 5 or 10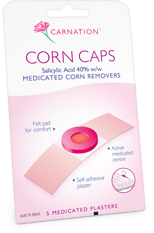 Carnation® Corn Shields
Advanced soft polymer gel shields that protects and relieves painful corns, absorbing shock and reducing friction.
Slim design, elasticated fabric outer keeps the shield in place and stretches to fit all sizes
Contains mineral oil to soften and moisturise the skin – help to gently remove corns and prevent pressure which causes recurrence
Stretch for use on all toes and especially useful for corns on the 5th toe
Corn Shields are available in packs of 3, one size fits all.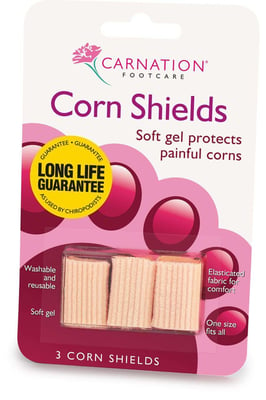 Carnation® Finger and Toe Bandage with Applicator
Protects finger and toe injuries.
Easy and quick to cut to size and apply.
Applicator provided
Can be used as a closed finger or toe bandage or for more support as a finger stall.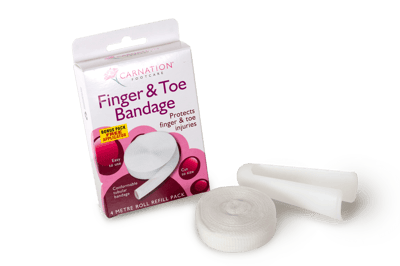 Carnation® Oval Corn Pads
Proven approach to pressure relief on painful corns
High quality chiropody felt spreads pressure & absorbs impact.
Hypoallergenic adhesive
Oval in shape for corns on top of the toe

Carnation

®

Oval Corn Cap Pads available in packs of 9